One Page Poetry Circle Archive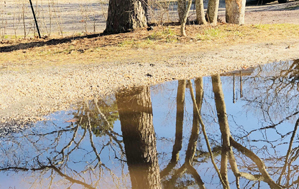 Welcome to the Virtual One Page Poetry Circle!
Date: Tuesday, October 11, 2022
Theme: Drought and Flooding
Find a poem! Send a poem by email!
We're back for the fifteenth fall season of the One Page Poetry Circle where people examine the works of established poets. While there is no instructor and this is not a workshop for personal writing, once a month OPPC gives everyone a place to become teachers and learners to explore the form, content, language and meaning of poetry. Since the circle began, participants have selected and discussed 1398 poems and have read countless others in pursuit of poetry that speaks to them.
This fall we will continue to gather virtually, by email. We ask you to send us the poems you have selected on the subject of Poetry and Drought and Flooding, with a comment on why you chose them. We'll share the poems with you through our blog blog and by email.
Somehow water rarely arrives in a perfect amount. The Australian Dorothea Mackellar wrote "My Country" in 1906 while feeling nostalgic for her homeland on a trip to England. Recently one verse of the poem has been used to deny climate change because of the poem's suggestion that drought and flood have always been with us:
I love a sunburnt country,
A land of sweeping plains,
Of ragged mountain ranges,
Of drought and flooding rains.
In "Memphis Blues," published in 1922, Harlem Renaissance poet Sterling A. Brown uses black dialect for an apocalyptic vision of the city's fate:
Was another Memphis
Mongst de olden days,
Done been destroyed
In many ways…
Dis here Memphis
It may go
Floods may drown it;
Tornado blow;
Mississippi wash it
Down to sea—
Like de other Memphis in
History.
Our topic for September was The End of Summer.
Abigail found "A Boat, Beneath a Sunny Sky" by Lewis Carroll, the famed creator of Alice in Wonderland who imagines children listening to his tale even after "Autumn frosts have slain July": "In a Wonderland they lie,/Dreaming as the days go by,/Dreaming as the summers die." The poem suggests that literature can keep youth and summer within us.
Roger enjoyed that Patricia A. Fleming's poem, "The Summer's End," brings back the joys of "running, swimming and riding bikes/Beneath the summer sun" as the chirps of crickets announce the arrival of fall: "But there's also a haunting sadness sometimes/That I feel when those dark shadows fall./And that my greatest adventures in life/Are just memories, now aroused by those sweet cricket calls."
Christiana selected "Some Pines" from a book of poems entitled Midwood by Czech poet Jana Prikryl. Her awards include Guggenheim and Radcliffe fellowships. "To me, the atmosphere around this poem feels like summer shot through with the cool hints of autumn." This is the poem in its entirety:
Serried, green as paint, rising up a steep incline
above my childhood, a sort of extra forehead there
behind the house, I look back
the pines stand for my good fortune
growing up in that spot, where they were not
deciduous and the slope shot down
under them, many conversations with those trees
with leaves on and without their leaves absorbed a lot
Dee sent "Reflections" from Rhymes 'n Rhythms 'n Blues by poet M. Nannette Marchand. "The poem reminds me of summer days in the park relaxing, reading, listening to music while enjoying the coolness of a breeze and the warmth of the sun": "The beauty of/the precious sun/The welcome dusk/(When day is done)/the biting breeze/of Winter's wind/and then…".
Scott wrote, "The theme of 'back to school' resonated with me, especially because my grandson has an open house today to meet his new teacher." Scott sent "Theme for English B" by Langston Hughes in which the narrator completes his assignment by writing a page to describe himself. He begins simply enough with where he was born and studied and the things he enjoys, "Well, I like to eat, sleep, drink, and be in love./I like to work, read, learn, and understand life." But he questions how his color, "I guess being colored doesn't make me not like/the same things other folks like who are other races," and his interactions, "You are white--/yet a part of me, as I am a part of you./That's American," influence him and his teacher.
Richard sent the four-line poem, "Autumn," by a New England poet, Amy Lowell. "As a photographer, I am struck by the lines describing how the light falls and by the specificity of each leaf 'fringed with silver,' an apt word because it foreshadows the glint of winter's ice and snow."
All day I have watched the purple vine leaves
Fall into the water.
And now in the moonlight they still fall,
But each leaf is fringed with silver.
Hazel sent lines from "The Eve of Election" by John Greenleaf Whittier which begins: "From gold to gray/Our mild sweet day/Of Indian Summer fades too soon:/But tenderly/Above the sea/Hangs, white and calm, the hunter's moon." Hazel writes, "After the terrible hot summer that we have had, I guess that what is coming is good."
Nancy sent the last verse of the song "For the Roses" by Joni Mitchell "that starts playing in my head every year around this time." Hear Joni Mitchell sing it.
I heard it in the wind last night
It sounded like applause
Chilly now
End of summer
No more shiny hot nights
It was just the arbutus rustling
And the bumping of the logs
And the moon swept down black water
Like an empty spotlight
Gail chose Emily's Dickinson's four-stanza poem, "As imperceptibly as Grief" which features her signature slant rhymes. (Kudos to Gail for bringing up our topic from the spring!) Gail "loves the way she links the end of summer with the feeling of grief. The last stanza is particularly ethereal and exquisite!":
And thus, without a Wing
Or service of a Keel
Our Summer made her light escape
Into the Beautiful.
Cate selected "Autumn Day," a Rainer Maria Rilke poem that spoke to her, especially for its "not being prepared, consequently 'all restless' to pick up one or more of those last fallen fruits and settle into a more sedentary and isolated homelessness. As for form, love that the rhymes fall so lightly despite Rilke calling upon the Lord!": "Lord: it is time. The summer was so grand./Upon sundials now Thy shadow lay,/Set free Thy winds and send them o'er the land./Command to ripen those last fruits of Thine."
Victoria sent "My Mother on an Evening in Late Summer" by Mark Strand who connects the disintegration of her house with the aging of his mother: "The earth is not yet a garden/about to be turned. The stars/are not yet bells that ring/at night for the lost./It is much too late." Victoria comments, "What else is the process of living if not the inexorable journey through decline toward death? By virtue of being alive in late summer, uncertain of her own life's meaning, it is already much too late."
AnnaLee completes the circle with "Morningside Heights, July" by William Matthews from his book After All: Last Poems. This excerpt reminds her of how the changing of seasons can be a powerful metaphor for changes in human relationships:
I'm sorry, she says. The comforts
of loneliness fall in like a bad platoon.
The sky blurs—there's a storm coming
up or down. A lank cat slinks liquidly
around a corner. How familiar
it feels to feel strange, hollower
than a bassoon. A rill of chill air
in the leaves. A car alarm. Hail.
Whether a poem speaks of drought or flooding, or of anything you associate with water or the lack of it, email it to one of us by October 11th, with a brief comment on why you chose it. Can't locate a poem you want to send? Check out Poetry Foundation or poets.org.
In the meantime, please blog with us at onepagepoetrycircle.wordpress.com.
Fall 2022 Schedule
October 11: Drought and Flooding
November 8: Blank Verse
December 13: Winter Solstice
Abigail Burnham Bloom, abigailburnhambloom(at)gmail(dot)com
AnnaLee Wilson, annalee(at)kaeserwilson(dot)com