One Page Poetry Circle Archive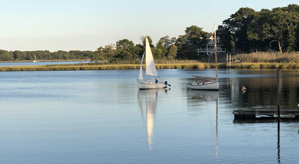 Welcome to the Virtual One Page Poetry Circle!
Date: Tuesday, May 11, 2021 Theme: Poetry and Freedom
Find a poem! Send a poem by email!
We're back for the thirteenth spring season of the One Page Poetry Circle where people examine the works of established poets. While there is no instructor and this is not a workshop for personal writing, once a month OPPC gives everyone a place to become teachers and learners to explore the form, content, language and meaning of poetry. Since the circle began, participants have selected and discussed 1301 poems and have read countless others in pursuit of poetry that speaks to them.
This spring we will gather virtually, by email. We ask you to send us the poems you have selected on the subject of Poetry and Freedom by May 11th, with a comment on why you chose them. We'll share the poems with you through our blog and by email.
Our theme for May is Freedom.
William Wordsworth's poem celebrates restriction, revealing the pleasure of confinement not only in his argument, but also in the form of the sonnet:
William Wordsworth begins the second verse paragraph of his autobiographical epic, The Prelude, with these words, "Fair seed-time had my soul, and I grew up/Foster'd alike by beauty and by fear." In the poem he recounts those experiences that developed his mind and soul into those of a poet.
Nuns fret not at their Convent's narrow room;
And Hermits are contented with their Cells;
And Students with their pensive Citadels;
Maids at the Wheel, the Weaver at his Loom,
Sit blithe and happy; Bees that soar for bloom,
High as the highest peak of Furness-Fells,
Will murmur by the hour in Foxglove bells:
In truth the prison, in which we doom
Ourselves, no prison is: and hence for me,
In sundry moods, 'twas pastime to be found
Within the Sonnet's scanty plot of ground;
Pleased if some Souls (for such there needs must be)
Who have felt the weight of too much liberty,
Should find brief solace there, as I have found.
Langston Hughes's poem "Freedom" reminds us, in deceptively plain language, that America's greatest promise of freedom and equality for all its people must be kept immediately. "Freedom/Is a strong seed/Planted/In a great need":
Freedom will not come
Today, this year
Nor ever
Through compromise and fear.
I have as much right
As the other fellow has
To stand
On my two feet
And own the land.
I tire so of hearing people say,
Let things take their course.
Tomorrow is another day.
I do not need my freedom when I'm dead.
I cannot live on tomorrow's bread.
Freedom
Is a strong seed
Planted
In a great need.
I live here, too.
I want my freedom
Just as you.
Whether a poem is about freedom or independence or free expression, choose a poem that has meaning to you. Then email it to one of us by May 11th, with a brief comment of why you chose it. Can't locate a poem you want to send? Check out Poetry Foundation or poets.org.
In the meantime, please blog with us at onepagepoetrycircle.wordpress.com.
Spring 2021 Schedule
May 11: Freedom
Abigail Burnham Bloom, abigailburnhambloom@gmail.com
AnnaLee Wilson, annalee@kaeserwilson.com