One Page Poetry Circle Archive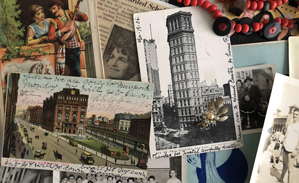 Welcome to the Virtual One Page Poetry Circle!
Date: Tuesday, December 14, 2021
Theme: Mementos
Find a poem! Send a poem by email!
We're back for the fourteenth fall season of the One Page Poetry Circle where people examine the works of established poets. While there is no instructor and this is not a workshop for personal writing, once a month OPPC gives everyone a place to become teachers and learners to explore the form, content, language and meaning of poetry. Since the circle began, participants have selected and discussed 1328 poems and have read countless others in pursuit of poetry that speaks to them.
This fall we will continue to gather virtually, by email. We ask you to send us the poems you have selected on the subject of Poetry and Mementos by December 14th, with a comment on why you chose them. We'll share the poems with you through our blog and by email.
We chose the theme of Mementos in honor of the holiday season, when we take memorable trips, see old friends and relations, and bring out the old recipes and keepsakes from our past.
Abigail thought of "Memorabilia" by Robert Browning, a poem she has always loved and never understood—which is true of many poems. The poem begins with Browning having met someone who met Percy Bysshe Shelley, Browning's hero, "How strange it seems, and new!"; the poem ends with his talking of walking on a moor, "For there I picked up on the heather/And there I put inside my breast/A moulted feather, an eagle-feather—/Well, I forget the rest." "I have, so many times, brought home mementos from my travels and then a few years later thrown them out because they no longer held the significance they once had."
AnnaLee considered "Mementos, 1" by W. D. Snodgrass because "The poem reminds me of encounters with my own old postcards, photos, seashells, yearbooks, and such—physical reminders of my past that spark laughter and tears, a sense of connection and renewal. The poem begins with a startling image:
Sorting out letters and piles of my old
Canceled checks, old clippings, and yellow note cards
That meant something once, I happened to find
Your picture. That picture. I stopped there cold,
Like a man raking piles of dead leaves in his yard
Who has turned up a severed hand.
We look forward to reading the poems you select for Poetry and Mementos. However your poem mentions mementos or reminds you of mementos, email it to one of us by December 14th, with a brief comment on why you chose it. Can't locate a poem you want to send? Check out Poetry Foundation or poets.org.
In the meantime, please blog with us at onepagepoetrycircle.wordpress.com.
Fall 2021 Schedule
December 14: Mementos
Abigail Burnham Bloom, abigailburnhambloom@gmail.com
AnnaLee Wilson, annalee@kaeserwilson.com